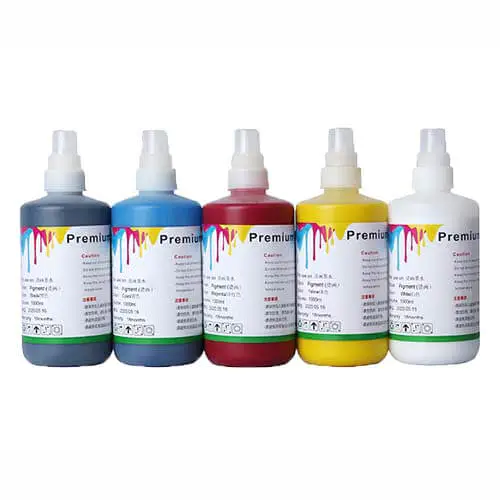 High Quality Universal Textile Ink DTF Ink for PET Film Transfer for DTF Printers
* Type: direst to PET film DTF ink  for dtf printer
* Suitable printheads: for Epson P600 P800 DX4 DX5 DX6 DX7 XP600 R1390 R1900 F2000 L1800 4720/5133 i3200 Print heads
* Color: white/black/yellow/cyan/magenta
* Ink types: water-based pigment ink
* Volume: available for 100ml, 200ml, 500ml, 1000ml
* Print on: all kind of PET films
* Packing: neutral or customized packing
* Lead time: 1-3 working days after payment received 
1. Using high-quality raw materials, fine particles, the average size of 0.2um, fluency, not clogging of the print head, suitable for continuous printing;
2. Transfer-tested, rubbing wear color fastness 5, perspiration-resistant color fastness 5, 5 colorfastness to water, direct contact with the skin, not harmful to humans;
3 .Transfer temperature: 150 -180 degrees.
4. Transfer time: 25-40 seconds.
5. Suitable for piezo printers like For Epson I3200/DX5/DX7/5113/4720
6. Package: 100ml/250ml/500ml/1L
7. Available color: CMYK+WHITE
Vivid 6 colors of DTF ink can be directly printed on the PET film and transferred to the textile fibers of cotton, viscose, wool, blends, etc.
without any pre-treatment with all piezoelectric and piezo printers. After printing, and heat press can improve the colorfastness of cloth by half to one level. 
High quality raw material
1.Good whiteness and covering with white ink;
2.White ink is compatible with other colors well,large amount white and CMYK ink could be printed, no mutual permeability;
3.High density of color, bright color result;
4.Soft hand feeling, excellent tensile property and resilience;
5.Dry rubbing, wet rubbing and perspiration fastness 4-5 grade;
6.High resolution after printing.
With DTF printing ink , we can provide you a whole set of solution,as well as white ink at low price.
The Test results as belows:
The Dry rubbing fastness ≥4 level, the wet rubbing fastness ≥3-4 level, wash fastness ≥4 level, light fastness ≥ 6 level.
A3 DTG Printer
Double printheads. Print white and color by one pass.