FN-A3Oven DTF Oven PET Film Curing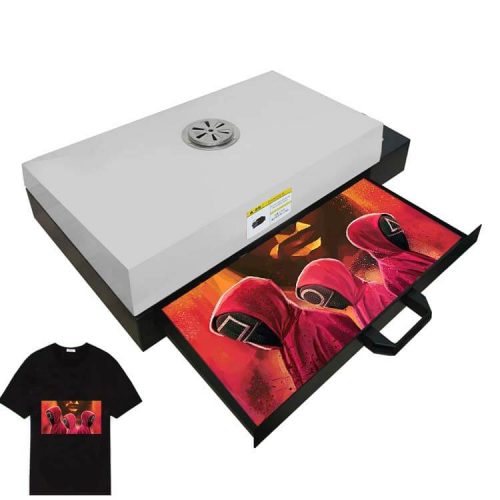 A3 Size DTF Oven for PET Film Drying
FninkJet's most popular A3 DTF oven is for curing PET film, DTF Oven temperature setting is about 20s by 125°C.  It is portable, and more convenient for DTF printing, saving your time. Support any brand's pet film, it is a perfect dryer to help your printing business. It is match with an A3 dtf printer, if you already have a dtf, then you can buy this oven only, if you don't have a dtf, we recommend you to buy a whole unit, including an A3 dtf printer, A3 dtf oven, heat press machine, hot melt adhesive powder, pet film, dtf ink, which are on sale on our website. It is a low cost for you to get started with the business and make a profit in a fast way. 
The DTF curing oven is equipped with a single chip as the main component. There are certain advantages of the oven dtf:
1. Accurate temperature control
2. Good anti-interference capability
3. Wide applicability
4. Cost-effective
5. Easy to operate
*Model: FN-DO-A3
*Power: AC 110V-220V 16A 1400W
*Application: DTF film, DTF ink and hot melt adhesive powder curing
*Automatic Grade: Semi-automatic
*Baking Time: Adjustable, 1-60 minutes
*Oprating Environment: 0-50°C (0-122°F)
*Relative Humidity: 35%-85%
*Certificate: ISO9001/CE
*Inspection Before Shipment: Yes
*Product Size: 630*340*170mm
*Weight: 18kg (Gross)
*Packing: Neutral, carton box packing
*After-service: Online technical support
*OEM is available
*Place of Origin: Guangdong, China
*Shipping: By sea/air/DHL/Fedex etc
*Payment: T/T, Western Union, Paypal, L/C
*Delivery Time: 3-7 working days
*Supply Ability: 3000 sets per month
Control Panel Description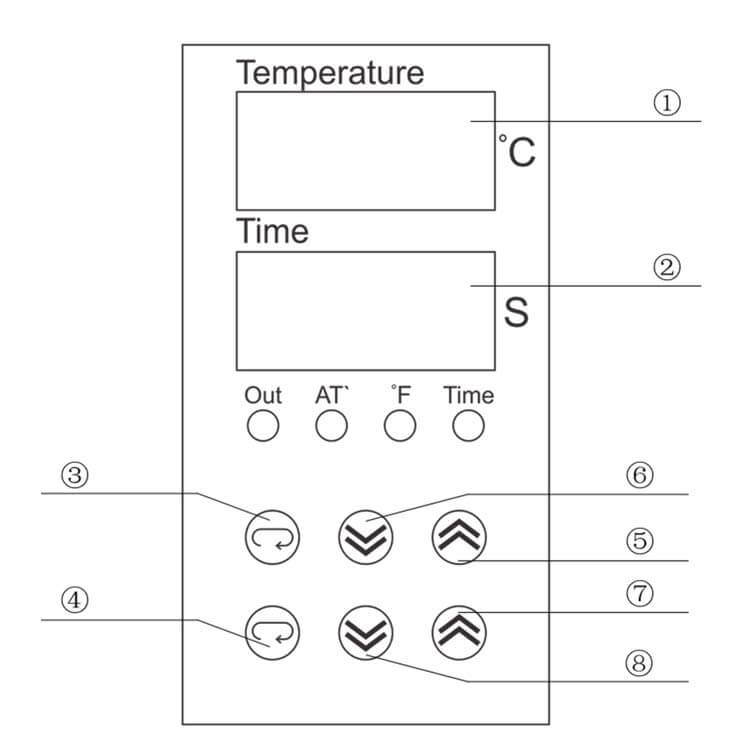 ① Baking temperature
② Baking time/Countdown during baking
③ Temperature setting/confirm
④ Baking time setting/confirm
⑤ Temperature decrease
⑥ Temperature increase
⑦ Time decrease
⑧ Time increase
Out: The baking indicator, light up during baking
AT: The setting indicator, light up during setting
F: Fahrenheit indicator, light up during baking
Time: Time indicator, light up during baking
What Will You Need for DTF Printer ?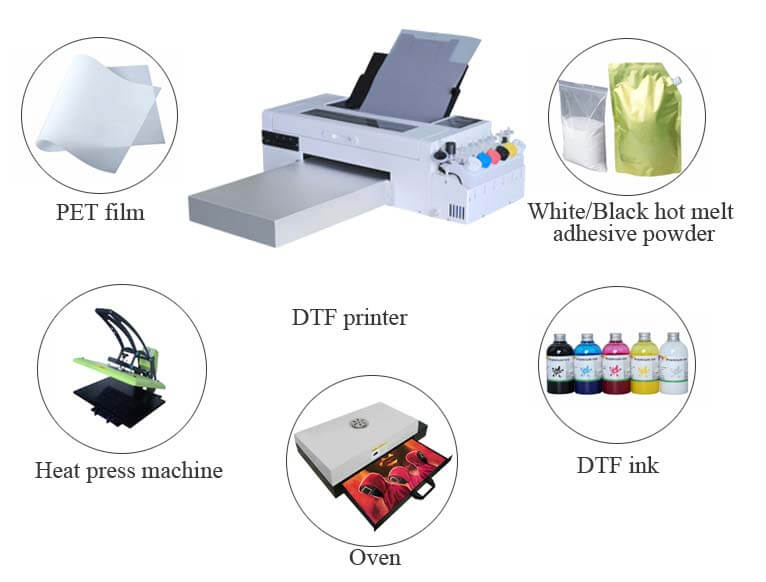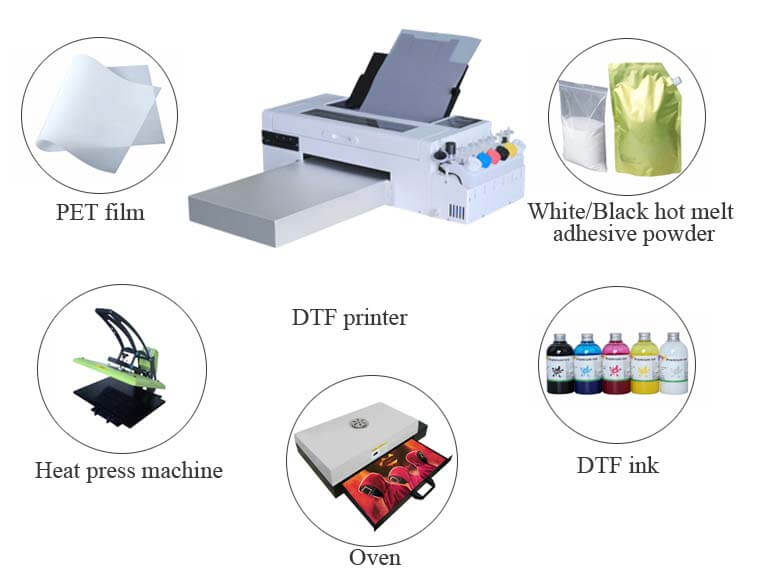 Working Process of DTF Printing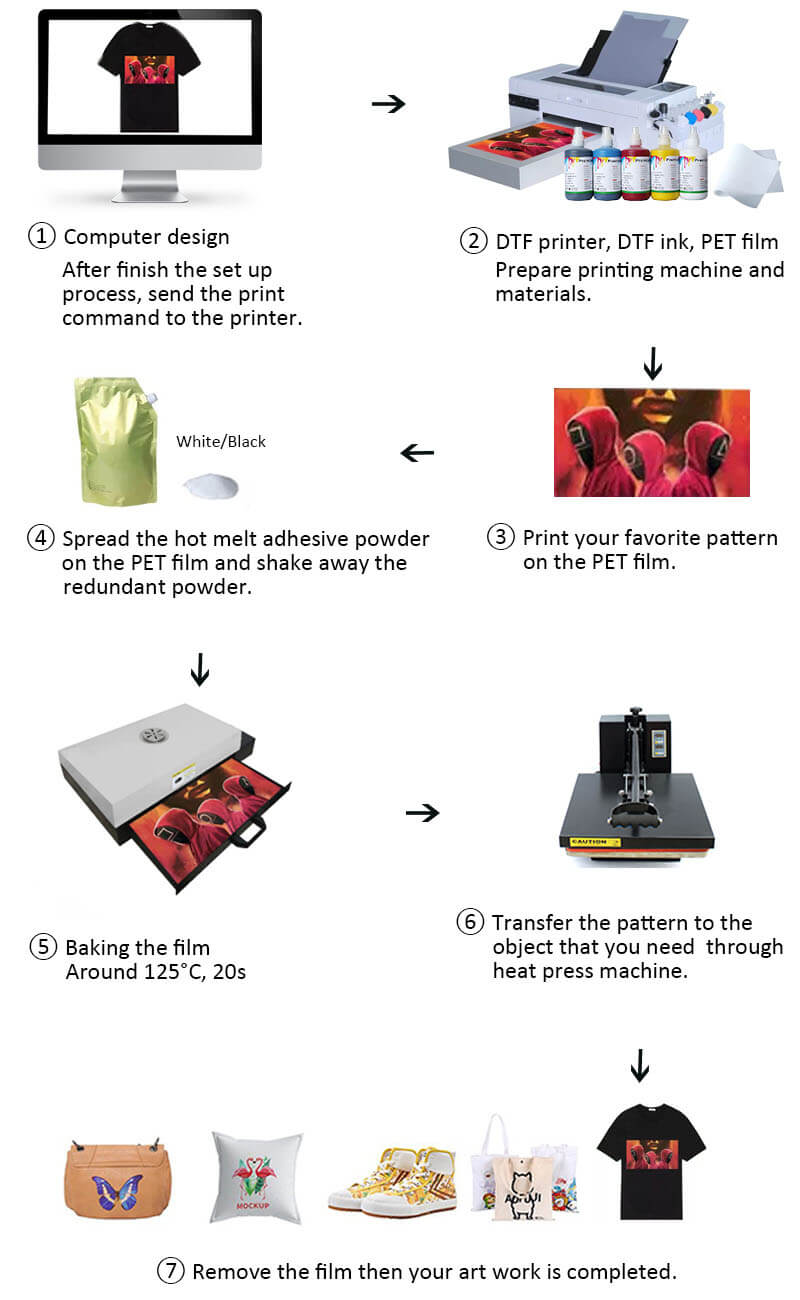 1. Access the power supply, and turn on the power switch.
2. Set up the baking temperature
Press the temperature setting button 

once, the temperature value flashing on the temperature screen, press the temperature regulation button

to decrease or

to increase the temperature, next press the temperature setting button

to confirm the temperature value and exit. At this moment, the temperature screen indicates the baking temperature value (We recommend setting the temperature up to 125°C)
3. Set up the baking time
Press the time setting button

for once, the time value flashes on the baking time screen, press the time regulation button

to decrease or

to increase the baking time, press

to confirm and exit and the time will countdown during baking (We recommend setting the baking time up as the 20s)
4. After completing the setting of temperature and time, wait for a while until the temperature reaches the designated value. Afterward, put the PET Film inside the oven, press the start button

, and the baking time starts counting down, When the dtf oven ringing, the END will show up on the baking time screen, press the start button

again, and pull the roasting pan out and pick up the PET Film carefully(high temperature, caution be scalded)
After-service and Warranty
1. Online training one-to-one (by WhatsApp, WeChat, email, video, etc).
2. English operation manual, operation video.
3. Printer with one year warranty and lifetime maintenance.
4. Seller will replace the spare parts for free in one year except for the print head, CISS, and clean unit.
*Please keep the room ventilating during baking;
*Please turn off the oven after two hours of continued baking, for the purpose of cooling down the oven.
*keep away from children.
A2 DTG Printer
Double printheads. Print white and color by one pass.