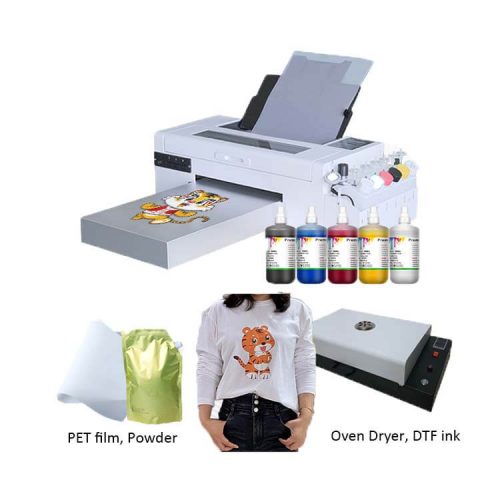 A3 DTF Printer Direct to Film Printer with Epson L1800
A3 DTF printer, the price is less than one-tenth of the big machine, single pet film can be printed immediately, perfect for dark fabrics, very suitable for proofing, studio, small-batch production. Except to print clothes, the A3 dtf printer can also print umbrellas, leather, shoes, pillows, mousepads, etc. It has a wide range of uses and is also very suitable for making some personalized products. The consumables that need to be used are PET film, hot melt powder, and an oven and heat press machine. It has a photo effect, and bright colors, and can be transferred to any fabric. Now, the special pressing technology can achieve an almost soft hand feel, which is breathable and environmentally friendly.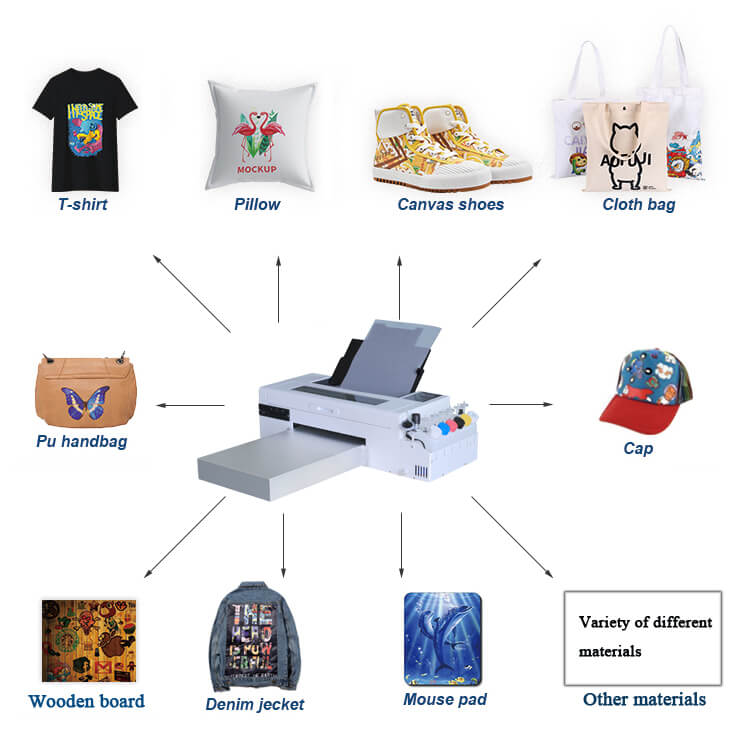 Direct to film printer, dtf transfer printer to clothes, use with our dtf oven, dtf ink, hot melt adhesive powder together. Low cost, high profit for your business. 
Specification of A3 DTF printer
*Model: FN-A3DTF
*Type: Inkjet printer DTF printer
*Print head: Epson L1800, CMYKWW 6 colors
*Resolution: 5760*1440 dpi
*Print Dimension: 297*420mm
*Advantage: white ink circulation system
*Application: DTF ink PET film printing
*Operating System: Windows 7/8/10
*RIP Software: Acrorip/Ripprinter
*Heating System: Front section independent heating
*Delivery System: Automatic or manual
*Power: AC 110V-230V, 500W
*Oprating Environment: 10-40°C (50-105°F)
*Relative Humidity: 35%-85%
*Warranty: One year, except core parts
*Place of Origin: Guangdong, China
*Shipping: By sea/air/DHL/Fedex etc
*Payment: T/T, Western Union, Paypal
*Delivery Time: 3-7 working days
*Certificate: ISO9001/CE
*Inspection Before Shipment: Yes
*Packing: Neutral, wooden case
*Product Size: 750*740*325mm
*Packing Size: 800*380*400mm
*Weight: 28kg(Gross),20kg(Net)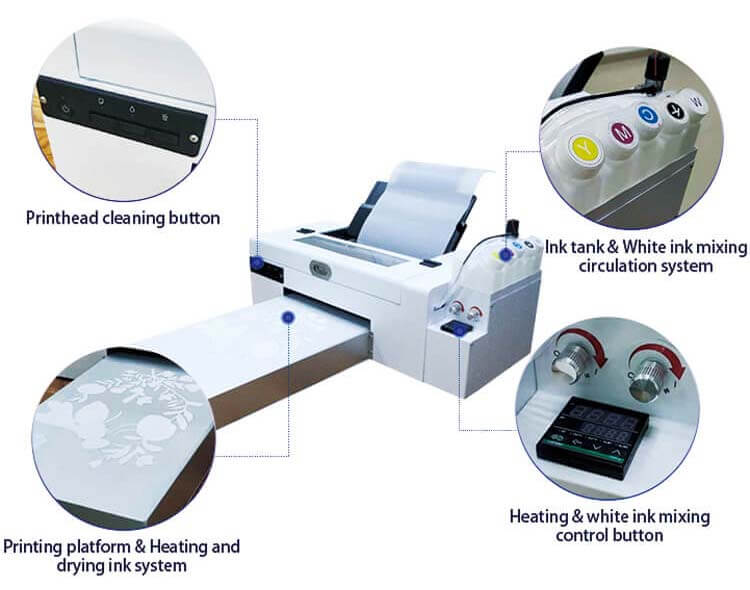 DTF A3 PET Film DTF Printer For T-Shirt Printing, suitable material: cotton, polyester, jeans, canvas, wood, leather, etc. The desktop version DTF printer, works with a DTF oven dryer, perfectly give you the experience of homemade DIY for garment designing, or effectively uses your spare time to run a small scale online or offline shops to give the exclusive customization for your customers. Idol, slogan, traveling memories, the record growth of your angel, your favorite painting, the family members, etc. All of them you can print on the Cloth, Pants, Hat, etc. Many materials can be printed on, such as swimsuits, diving suits, cotton, nylon, canvas, leather, linen, etc.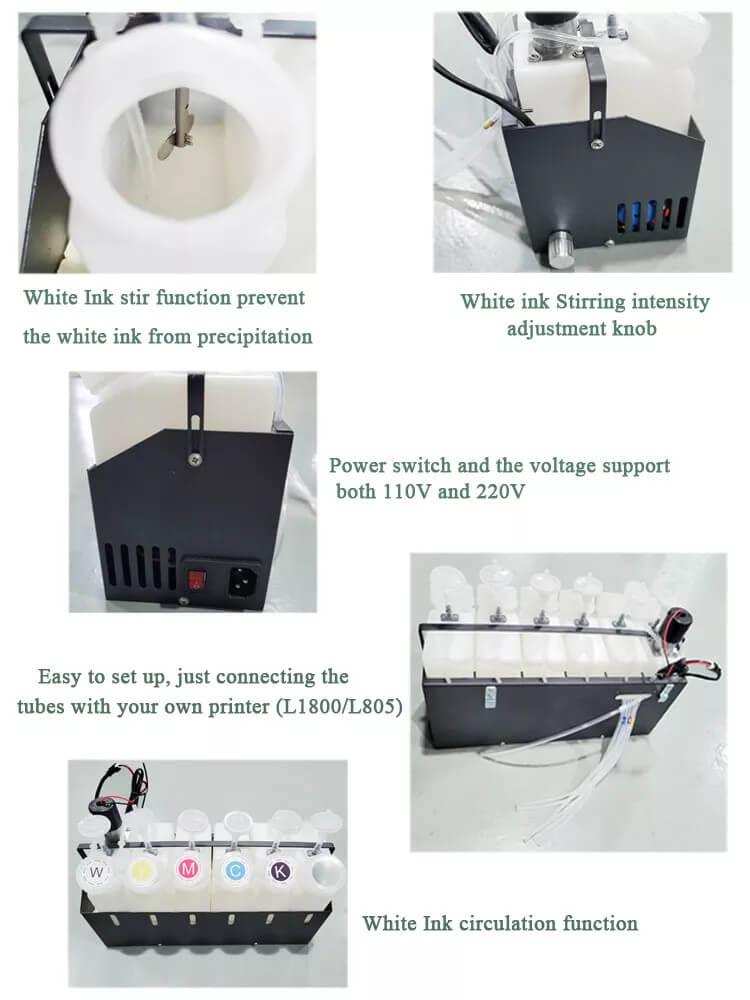 1. We provide free online technical guidance for life.
2. Suitable for PET film transfer ink + hot melt powder + PET film transfer.
3. The continuous ink supply system prints smoothly and is not easy to block the head.
4. With a white ink circulation system, protect the print head from clogging.
5. Provide after-sales service, and one year warranty.
6. It used to be troublesome to roll the material, now after the upgrade, the software can be operated directly.
7. The appearance of the printer is upgraded, more beautiful than the original, and the structure is more reasonable.
8. Support film printing of sheets and rolls.
9. Automatic sensing paper feed.
What Will You Need for DTF Printer ?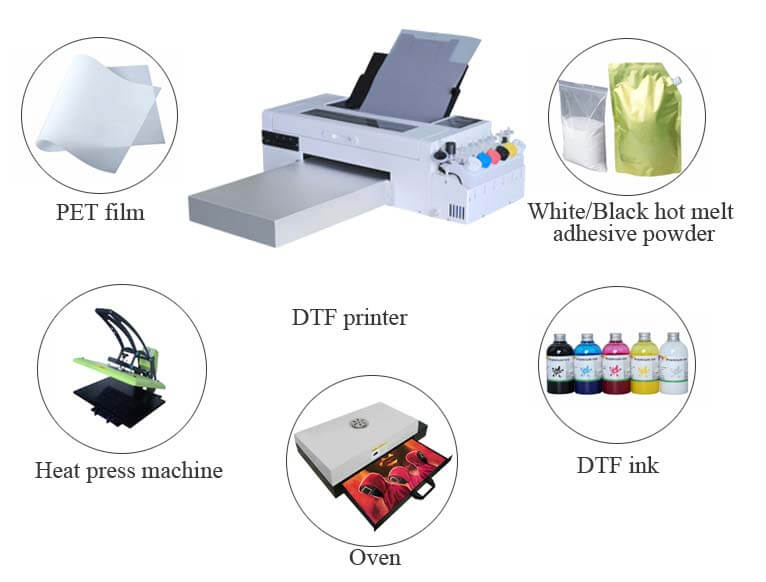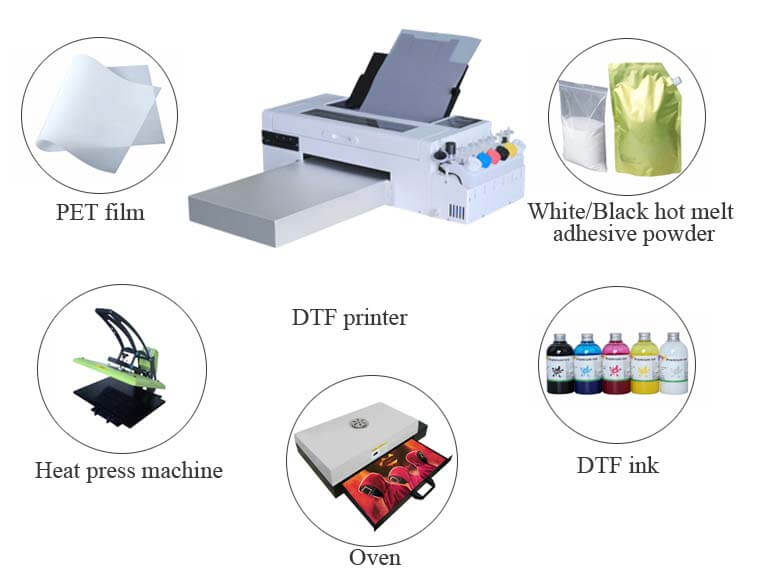 Working Process of DTF Printing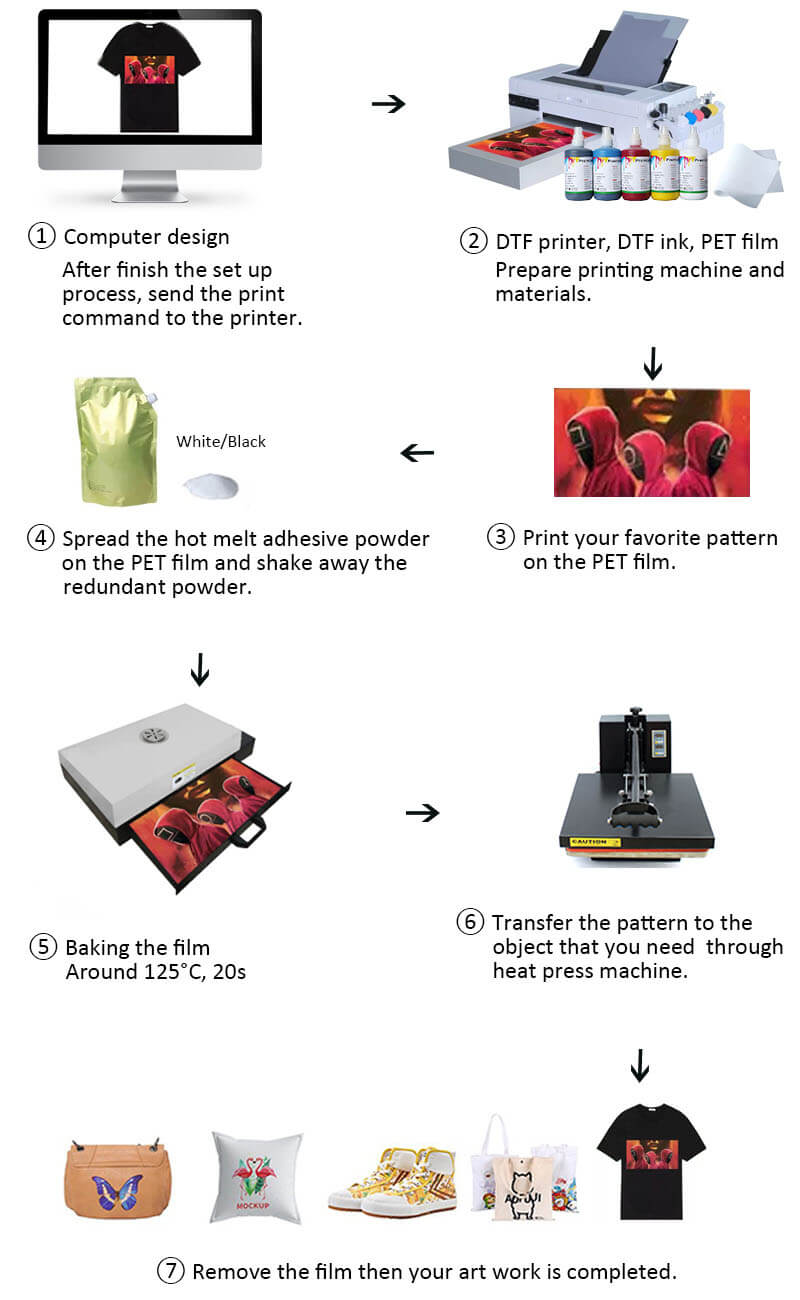 After-service and Warranty
1. Online training one-to-one (by WhatsApp, WeChat, email, video, etc).
2. English operation manual, operation video.
3. Printer with one year warranty and lifetime maintenance.
4. Seller will replace the spare parts for free in one year except for the print head, CISS, and mainboard.
A2 DTG Printer
Double printheads. Print white and color by one pass.